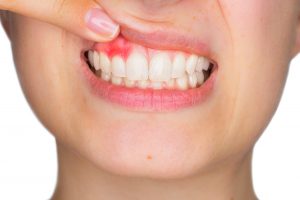 According to the Alzheimer's Association, by the year 2050, nearly 14 million Americans will be living with Alzheimer's disease. Unfortunately, a cure for this degenerative brain disease does not yet exist – however, new research suggests that the key to understanding Alzheimer's may lie in the connection between the mouth and brain. How is oral health linked to Alzheimer's disease? A dentist in Putnam explains below.
What is Gum Disease?
Gum disease is a pathological inflammatory condition of the tissues in the mouth that surround and support the teeth. Also known as periodontal disease, it is caused by the harmful bacteria in plaque. If allowed to progress, gum disease can irreversibly damage your mouth and even lead to tooth loss.
Common Symptoms of Gum Disease
The early stages of gum disease can be very subtle and difficult to detect at home. However, you may have gum disease if you are experiencing any of these 5 common symptoms:
Red, swollen, or tender gums
Bleeding gums when brushing or flossing
Persistent bad breath
Pus emanating from between the teeth and gums
Bite problems due to shifting teeth
The Link Between Gum Disease and Alzheimer's
New research published this year has revealed a strong link between gum disease and Alzheimer's disease, the most common form of dementia.
According to scientists at several higher education institutions and a pharmaceutical firm, P. gingivalis, the main bacterium involved in gum disease, can invade and inflame the regions of the brain affected by Alzheimer's disease.
The researchers believe that P. gingivalis and other oral bacteria are able to enter the bloodstream due to the inflammation caused by gum disease, thereby reaching the brain and other vital organs.
This new scientific revelation linking gum disease to Alzheimer's disease underlines the importance of maintaining healthy gums and the risk of not practicing proper oral hygiene.
How to Prevent Gum Disease
The consequences of gum disease can seem quite dire – however, the good news is that gum disease can often be treated and reversed if caught in the early stages.
For this reason, visiting a family dentist in Putnam every six months for a routine dental exam and cleaning is critical. During each routine checkup, your dentist will check for early signs of gum disease such as inflammation and expertly remove the harmful plaque and tartar that can contribute to gum disease.
Regular dental checkups are also an opportunity to talk to your dentist about any dental health concerns you may have and ask for preventive oral care tips.
A healthy mouth, a healthy body, and a healthy mind – all three are interconnected! Practicing proper oral care at home will not only keep you smiling but help you stay mentally sharp long into your golden years.
About the Author
Dr. Walter McGinn has been providing quality dental care to patients in northeastern Connecticut for over 20 years. The Harvard School of Dental Medicine graduate understands that a healthy mouth is an essential part of a healthy body. Patients interested in knowing more about gum disease and how to prevent it can visit Dr. McGinn's website or call the office at 860-928-3723.