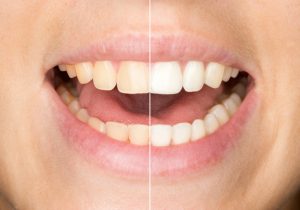 With summer right around the corner, plans are being made for weddings, vacations and other big events! Would you like to enhance your smile for summer? Did you know that whitening your teeth is one of the quickest and most cost effective ways to amp up your smile for upcoming events? With so many different options available for teeth whitening, how do you know where to start? Your Putnam dentist discusses the benefits of professional teeth whitening vs over the counter products.
How Does Professional Whitening Work?
Dr. Carolyn McGinn or Dr. Walter McGinn will discuss your needs and goals for your smile with you to determine which of our whitening systems are right for your needs. Most patients choose our custom made take-home trays. With this system, impressions are made of your teeth and used to create plastic trays that fit snugly over your teeth. Your doctor will determine which strength whitening gel will be best for you, and then you'll be able to whiten your teeth at home with your trays at your leisure, based on your schedule.
What are the Benefits of Professional Whitening vs Over The Counter?
It might seem more cost effective to choose an over the counter whitening product, but professional whitening offers many benefits that drug store products can't. First, professional whitening systems are typically custom made to fit your teeth, which protects your gum tissue, lips and cheeks from excess whitening gel. You'll also be able to reach all of your teeth with gel, while an over the counter product may be designed to whiten only your front six teeth.
Take home trays can be kept at home and used whenever you'd like to give your smile a boost. We sell whitening gel at our Putnam dental office, so it's easy to pick some up and whiten before your next big event. You'll find that the whitening gel available in dental offices is typically much stronger than what is available at your local drug store. This means you'll spend less time whitening to achieve the results that you want. Whitening under the supervision of your dentist is always advisable in case you encounter any issues with sensitivity.
If you're considering teeth whitening in Putnam, consulting Drs. McGinn is the best place to start. We'll determine which system is right for your lifestyle, needs and budget. If custom trays are in your future we'll get impressions taken so you'll receive your trays in a timely manner. A whiter, brighter smile is just a phone call away; contact our office to learn more about whitening your smile.