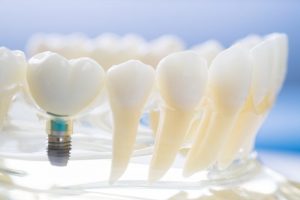 Are gaps in your smile causing your self-confidence to spiral? Missing teeth can harm your oral health and cause your other teeth to shift to close the gaps. Considering all the problems this can cause, investing your time and money in dental implants in Putnam is the best option for your mouth. This restorative procedure is highly recommended by dentists and patients alike because they look, feel, and function just like your natural teeth! You won't have to feel you're missing out on the simple things in life anymore. Read on for 4 reasons dental implants are the best choice for you.
Keep Your Teeth From Shifting
When you lose a tooth, your remaining teeth will start shifting in order to fill the open space. Not only can this cause your smile to become misaligned for when you do decide to get restorations, but it can also cause oral health complications. When your teeth become crowded, it can cause plaque and tartar to accumulate in harder-to-reach spaces. Keeping your teeth clean is essential to ward off issues such as cavities and gum disease. Getting a dental implant to replace a gap can keep your teeth aligned and make it easier to keep up with your oral hygiene.
Stop Bone Deterioration
When a tooth goes missing, because there's no tooth root to stimulate that portion of the jaw, it can begin to deteriorate. Even with traditional restorations such as dentures, because there's nothing to replace the tooth's root, your jawbone will still be left unstimulated. The longer you wait to get implants, the more likely it will be that you need to get a bone graft to get the procedure later on.
Don't Worry About Slipping And Shifting
With traditional dentures, because they rely on suction to stay in your mouth, you may experience slipping or shifting that can affect your ability to speak and chew. Imagine this, you're at a summer picnic with your family and in the middle of the conversation when you noticeably slur your words. You have to stop mid-sentence to readjust your dentures and then pick the conversation back up.
With dental implants, because they're surgically placed titanium posts that are fused with your jaw, they're able to provide your restoration with a durable and stable foundation. Because of this, you won't have to cut out any of your favorite snacks or worry about awkward social moments.
Preserve Your Facial Structure
After your implants are surgically inserted, they'll fuse with your jaw through a process called osseointegration. This allows them to function identically to your natural teeth and prevents your facial structure from altering. With traditional restorations like dentures, you will notice that your face will begin to look droopy or saggy. This is because there's nothing stimulating your jawbone or oral tissues. With implants, you won't have to worry about this.
While implants have been around for decades, with recent technological advancements, it's more precise and successful than ever. Boasting a 95% success rate, this restorative procedure can improve your quality of life and oral health. Take the first step towards boosting your self-confidence by scheduling your consultation with your dentist in Putnam!
About the Author
Dr. Walter McGinn graduated with his Doctor of Dental Medicine from the Harvard School of Dental Medicine in 1987. He opened his own private practice in Putnam in 1994. With decades of experience and knowledge under his belt, he's able to provide his patients with the high-quality care they deserve. As a member of multiple professional associations, he takes pride in creating trusting long-lasting relationships with his patients. For questions or to schedule a consultation about dental implants, visit his website or contact 860-928-3723.