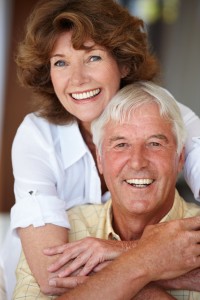 Stress, anxiety and embarrassment — these are just a few of the feelings our patients who are missing teeth report. It's the stress of not being able to eat like you used to, the anxiety of speaking without all your teeth and the embarrassment of smiling with a big gap. We hate to hear when people experience these side effects of missing teeth, but we also feel so proud to be able to offer a wonderful solution with dental implants in Putnam. Keep reading to learn how you can benefit from the whole tooth replacement from your dentist in Putnam in 2016!
Nothing replaces teeth as well as dental implants in Putnam
Since 1994. our Putnam neighbors have relied on Drs. McGinn when they need one or more teeth replaced. Given this significant experience, we think you can trust us when we say dental implants are the absolute best tooth replacement option available.
What sets dental implants apart
To put it simply, nothing else replaces the missing tooth as well as its root like dental implants. Fixed bridges and non-implant supported dentures, two top alternatives to dental implants, only replace the visible portion of the tooth. But without the stimulation of the tooth's root, your jawbone will slowly degenerate… resulting in a changing mouth shape and even more tooth loss later on.
How dental implants work
They're tiny posts made of titanium, and they're surgically implanted directly into the space left by each missing tooth. Think of them as little screws — the bottom part goes securely into your gum, and the new tooth is bonded on top. A process called osseointegration means the implant and jawbone fuse into one solid unit, keeping them super-secure in your mouth for a lifetime.
Benefits of dental implants
You can probably tell that the advantages of dental implants are significant — and we'll just name a few of the most commonly enjoyed here. Which one do you think you would benefit from most?
Increased oral health compared to non-implant supported replacement options

A fuller, more youthful facial shape

Restored ability to eat, speak and smile without anxiety or fear

When cared for properly, dental implants can last a lifetime
Have you had dental implants? Are we leaving anything off this list? Please let us know in the comments below!
Ready to experience the best? Contact us today!
If you're tired of living a life affected by your missing teeth, it's time for you to find out if you're a good candidate for dental implants. Drs. Carolyn and Walter McGinn are the implant dentists Putnam and surrounding communities have counted on for years — come find out why!