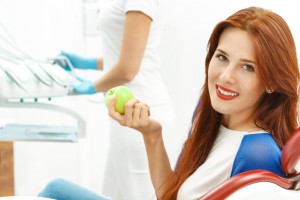 You know your mind and body are connected — just think of the way your stomach feels before a big speech. Well, we've got news for you: your oral health is just as closely tied to your overall health. Your dental wellbeing can affect or be affected by a number of things, and that's a fact Drs. Carolyn and Walter McGinn know well. Keep reading to learn how you can promote a strong smile by staying healthy in 2016!
Your Dentist in Putnam Encourages Good Overall Health
A healthy mouth means a healthy body, and that's something we see the evidence of in our Putnam office daily. Problems in your mouth often indicate what's going on in the rest of your body — and that means Dr. McGinn may be the first one to notice the warning signs of something far more serious.
Your Mouth, Your Heart
When gum disease allows bacteria from your mouth easy entry into your bloodstream, your heart is left vulnerable. Some heart conditions linked to poor oral health include endocarditis, high blood pressure, cardiovascular disease and stroke.
Oral Health Affects Pregnancy
Gum disease (periodontitis) has been linked to premature birth and low birth weight, though the reason isn't exactly clear. Hormonal changes during pregnancy can also cause a mild form of the condition we call "pregnancy gingivitis," a temporary condition that should still be monitored by an excellent family dentist.  
Bone Loss
Bone loss in the jaw is caused by gum disease and missing teeth and can lead to even more missing teeth and fewer replacement options later on. Both of these conditions (jawbone and tooth loss) are also linked to osteoporosis.
Diabetes
Because diabetes reduces the body's ability to fight infection, it's harder for your mouth to fight against bacteria. That puts your teeth, gums and other organs seriously at risk.
How to Maintain Excellent Oral Health
The good news is this: it's not difficult to maintain healthy teeth. In fact, you already know the steps required — brushing for two minutes, twice a day, flossing daily and visiting your Putnam dentist every six months.
Has it been awhile since your last dental exam and cleaning? Contact our office today to schedule your first visit for 2016. Dr. Carolyn and Walter McGinn are here to help you enjoy healthy teeth today, and for years to come — call us to book your appointment now! Because we love to see you smile.