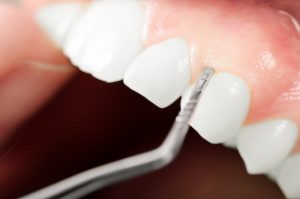 Did you know that it's National Gum Care Month? Although dental hygiene and healthy gum care should be practiced year-round, September is a good reminder that we should all be taking care of our gums just like our teeth and other parts of the body. Keep reading to learn some tips on how to keep your gums healthy, why preventing gum disease is important, and what your dentist in Putnam can do to help!
What is Gum Disease?
According to the Centers for Disease Control and Prevention, gum disease is the result of infection and inflammation of the gums, ligaments, and bone around the teeth. While this disease progresses slowly, it can lead to bone loss that causes your teeth to loosen if left untreated.
The main cause of gum disease is plaque. If plaque buildup on your teeth and around the gumline isn't removed, it'll form into tartar. Tartar containing harmful bacteria causes gum disease by forming at the gumline and separating your gums from your teeth. Tartar can only be removed by a dentist, which is why routine checkups and cleanings are so important.
How Can I Keep My Gums Disease Free?
The best way to keep your gums healthy is to maintain a good oral healthcare routine. Your main focus should be keeping harmful oral bacteria to a minimum. You can do that with the following tips:
Brush with a soft-bristled toothbrush (for less abrasion) and fluoride toothpaste at least twice a day and be sure to brush around the gumline.
Replace your tooth brush often. If your bristles are looking frayed, they won't clean your teeth and gums as well as they should.
Floss once a day! This is really important to get any plaque and bacteria out from in between your teeth. Lack of flossing is a common cause of gum disease because bacteria in between your teeth will fester and affect your gums.
Use antimicrobial mouthwash after your brushing and flossing to reduce bacteria in your mouth. Ask your dentist which one they would recommend based on your needs.
If there weren't already enough incentives to eat healthy, nutritious foods can reduce your risk of gum disease.
Last but certainly not least, schedule routine dental checkups and cleanings to make sure your gums are healthy. Your dentist will specifically check your gums and make any recommendations needed to achieve healthy gums.
Now that you know how to care for your gums, celebrate National Gum Care Month the right way: brush and floss daily and make sure you have your regular dental appointments set up for the year with your Putnam dentist.
About the Practice
Drs. Carolyn and Walter McGinn are Putnam's dental power couple. Together, they offer personalized care to meet the specific needs of all their patients. Part of their dental examinations include taking a look at your gums to make sure they are healthy and happy. They currently run their own practice, where they can be contacted through their website or by phone at (860) 928-3723.