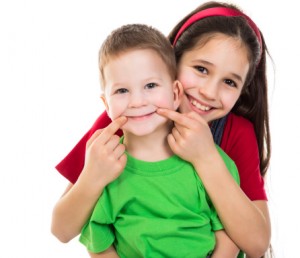 Now that summertime has almost come to a close, you know what that means: it's time to start prepping for the upcoming school year. Ah, yes. The infamous start of school for everyone. Before you know it, there will be plenty of sports practices, school projects, and countless other school-related activities that you'll have to be involved with. Before your schedule becomes a mess, we'd advise you to schedule your child's back-to-school checkup very soon. There's no better way to keep them extra prepared for the school year than with a regular checkup at our Putnam, CT office. Drs. Walter and Carolyn McGinn form a dental team that you can count on to keep your children's smiles feeling and looking beautiful throughout the school year. Choose the children's dentist that Putnam residents have come to know over the years: Dr. Walter McGinn and Dr. Carolyn McGinn.

A General Checkup Will Help Keep Their Tiny Mouths Clean
The worst thing that could possibly happen during the course of the school year is a dental problem caused by cavities or other ailments. Keeping their oral health in tip-top shape is very important because it's connected to their overall health. Any dental problems can grow into bigger ones if they don't get the treatment they need. Oftentimes, our team can recognize problems before they become bigger ones. A general exam can map out what all needs to be done to ensure their chompers are ready for the school year
What all happens during a children's dental exam? Our team will thoroughly inspect their mouth for any signs of tooth decay. From there, our registered dental hygienist will gently clean their teeth removing plaque, tartar and other bacteria from their smile. If they need a refresher on proper brushing and flossing techniques, we can demonstrate. It's important to ask questions so you can fully understand why we perform certain procedures during a general exam. The health of your child's teeth is not only important to you, it's doubly important to us. Young mouths need always have a fighting chance against disease when they come to our office.
Get Them In Before School Starts
Before the morning bell rings for the first class, schedule an appointment at our Putnam, CT office. Our team will take care of your children's teeth with a comprehensive exam. No tooth will be overlooked. Our team has the family dentists you're looking for. We invite families from all over to get their children's teeth examined, including Pomfret, Woodstock, Eastford, Killingly and beyond. Dr. Walter and Carolyn McGinn are the dentists Putnam residents can trust!