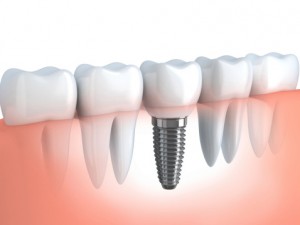 If you're missing a tooth, or more than one tooth, then you know what kind of difficulties come with that. Obviously, just one missing tooth can have a detrimental effect on your smile. Beyond that, there are nutrition concerns; you might not be able to eat a healthy and well-balanced diet if you have missing teeth. Many people with missing teeth resort to soft foods. Finally, even one missing tooth can impede your ability to speak. Fortunately, there's a viable and lifelike solution to these problems. Dental implants from the Putnam, CT, dental practice of Dr. Carolyn McGinn and Dr. Walter McGinn restore your smile with the tooth restoration that most closely mimics your real teeth.
Teeth go missing for a variety of reasons:
Severe decay necessitating extraction
Gum disease
A traumatic injury to the tooth
Unusual wear and tear
Failure of a root canal
Congenital defects
Whatever the reason, it is important to replace a missing tooth for cosmetic and health concerns. Furthermore, just one missing tooth can cause adjacent teeth to shift out of position leading to bite problems, and there may be bone deterioration around the area of missing teeth.
The Dental Implant Procedure
After you and one of our dentists determine that a dental implant is the best tooth replacement option for you, you'll come to the office for the first appointment. At this time, the dentist will implant a small titanium post into the bone beneath the open socket of the missing tooth. Over time, the post becomes anchored into the bone in a process called osseointegration. After a few months, this process is completed and you'll return to the office for the finishing touch to be attached—the abutment and crown. Once in place, your dental crown will look and function like a natural tooth, giving you years of smiles and good oral health.
Schedule an Appointment Today
To learn more about dental implants, call our office today and schedule a consultation with Dr. Carolyn McGinn or Dr. Walter McGinn. We conveniently serve patients in Putnam, CT, as well as the surrounding communities of Woodstock, Thompson, Pomfret, Brooklyn, Killingly, Eastford, Plainfield, Webster, Dudley, Douglas, Burrillville, Gloucester, and Foster.