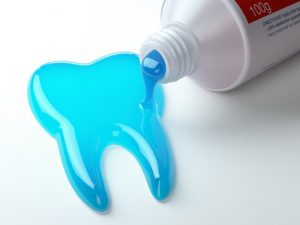 Have you ever made a quick trip to the store to pick up some toothpaste only to be overwhelmed by the sheer number of options available? There seems to be an endless variety of toothpastes, all of which claiming to be better than the others. So, how can you know which one is truly the best? The answer actually depends on the goals you have for your smile and dental health. Below, a dentist in Putnam provides tips on how to choose the toothpaste that's right for you.
Fluoridated Toothpaste
When selecting a toothpaste, the most important ingredient to look for is fluoride. This naturally occurring mineral provides two major benefits to your teeth: it strengthens your enamel, and it can even reverse the early stages of tooth decay. As a result, fluoride is often called "nature's cavity fighter!"
Most public water sources contain fluoride, but even if yours does, you should try to look for a fluoridated toothpaste. Doing so will make your teeth stronger and more resistant to cavities.
Desensitizing Toothpaste
Do hot or cold temperatures send a sharp pain through your teeth? Your sensitivity may be caused by worn-down enamel. Underneath the enamel is a layer called dentin, which contains microscopic tubules that lead to the nerve in the tooth's center. When these tubules are exposed to hot or cold foods or drinks, it can lead to painful sensitivity.
While fluoridated toothpaste can strengthen the teeth, certain toothpastes are specifically designed to target dentin hypersensitivity. Desensitizing toothpastes work by blocking the pathways in the teeth that lead to the nerves. Although it can take up to four weeks of daily use to experience full relief, desensitizing toothpaste can minimize or even eliminate temperature-related discomfort.
Whitening Toothpaste
Recent studies have suggested that as many as 80% of Americans wish they had whiter teeth. That's why cosmetic dentistry treatments, such as professional teeth whitening and veneers, have boomed in popularity. Rather than investing in these services, though, many people elect to brighten their smiles with over-the-counter products like whitening toothpaste.
Usually, whitening toothpastes do not contain bleaching agents. Instead, they contain abrasive chemicals that attach to the stains on the teeth, breaking them up so that they can be pulled from the tooth's surface. The abrasiveness of these ingredients may sound worrying, but studies have shown that most whitening toothpastes are no harder on your teeth than regular toothpastes.
So, What's The Best Type of Toothpaste?
Ultimately, the best toothpaste for you is the one that will encourage you to brush twice a day for two minutes each time. Regardless of what you hope to accomplish with your toothpaste, make sure to select one with the ADA Seal of Approval. That means the American Dental Association has verified that the toothpaste is safe and effective at preventing cavities.
About the Authors
Each of our four dentists at Carolyn & Walter McGinn, DMD brings their own unique expertise to our dental practice in Putnam, CT. We pride ourselves on educating our patients on how to maintain healthy smiles in between appointments. If you would like our team to help you decide the best toothpaste for you, visit our website or call (860) 928-3723.