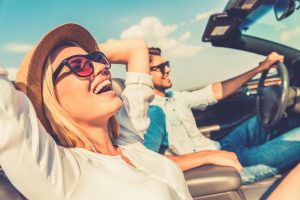 Summer is finally here again and the sun is shining! The hot weather may have you heading to the pool with friends or planning a family vacation to the beach. Either way, you should have plenty of opportunities to soak up the sun and maybe even get a little tan. However, did you know that spending time in the sun may also be beneficial for your smile? Your dentist in Putnam does! Discover how an extra boost of vitamin D from the summer sun can benefit your oral and overall health.
Risks of Vitamin D Deficiency
There are a number of health risks associated with a vitamin D deficiency. One of these is rickets, a condition that affects bone development in children. Without adequate levels of vitamin D, calcium, or phosphates, rickets can develop and cause the bones to become soft and weak, often leading to bone deformities.
Vitamin D deficiency can also negatively affect a person's teeth and gums. For example, research shows that people who are vitamin D deficient may have an increased risk of gum disease. In addition, children who do not get enough vitamin D may have delayed or abnormal formation of the teeth.
Insufficient amounts of vitamin D can also contribute to an increased risk of cavities due to a lack of proper mineralization of the teeth. When teeth cannot mineralize, they become weaker and more susceptible to harmful bacteria.
Vitamin D and Teeth
Fortunately, research indicates that anywhere between 10 and 30 minutes of sunshine a day is all it takes to get an adequate amount of vitamin D. Enjoying sunlight for even a short amount of time can benefit your oral health in many ways, such as:
Calcium Absorption – Vitamin D helps the body better absorb calcium, the important mineral needed to help build strong bones and teeth.
Protection Against Tooth Decay – Research from the University of Washington recently showed that vitamin D can lower the risk of tooth decay by 50%!
Boost Immune System – Vitamin D supports the immune system and healthy gums by helping activate cells that fight infections.
Sources of Vitamin D in Food
While the sun should be shining all summer, your body needs vitamin D all year round. Eating foods that are rich in vitamin D can help promote a healthy smile, no matter what month it is. The following foods all contain vitamin D:
Fatty fish, such as salmon or tuna
Egg yolks
Fortified milk
Fortified cereal, orange juice, or yogurt
Now that you know why vitamin D is good for your smile, you can enjoy the sunshine even more this summer! Just remember to always apply sunscreen to avoid painful sunburns and increased risk for skin cancer.
About the Author
Dr. Walter McGinn has provided quality dental care to residents of Putnam and surrounding communities for over 25 years. The Harvard School of Dental Medicine graduate enjoys educating patients about the many ways to boost their teeth and gums. To learn more surprising facts about how to achieve a healthy smile, visit Dr. McGinn's website or call 860-928-3723.