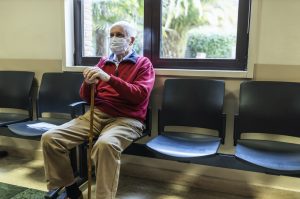 As we're living in a new world that prioritizes social distancing, something as simple as a trip to the grocery store has changed in a multitude of ways. Keeping space from others is one of the most important things you can do to prevent exposure to the coronavirus. But how can you maintain a 6-foot distance when you visit the dental office? In this post, your dentist in Putnam explains the steps that dentists are taking to implement social distancing and limit the potential spread of the virus.
How Do I Practice Social Distancing?
Social distancing, according to the Centers for Disease Control and Prevention (CDC), is keeping space between yourself and non-household members. To practice social distancing properly, you must:
Refrain from mass gatherings and crowded locations
Avoid social gatherings
Keep at least 6 feet between you and people who are not members of your household
How Does Social Distancing Change How the Dentist Operates?
Just like everywhere else, social distancing criteria applies to the dental office. This will make your next appointment look different than it has in the past. Some new steps that your dentist is taking to enforce social distancing are:
Virtual Waiting Rooms
Instead of checking in for your appointment face-to-face in the dental office, you can now check in from your car. Just give your dentist's office a call to let them know you have arrived. When the treatment room and staff are ready for you, they will let you know. This way, you can bypass the entire waiting area.
Spaced-Out Scheduling
The dental staff are spacing out appointments further apart than usual. This makes it easier to practice social distancing because it eliminates unnecessary contact between patients. It also gives the dentist's team extra time to clean even more than usual.
No Handshakes or Hugs
As much as your dentist loves to greet his patients, handshakes and hugs are currently off limits to help prevent the spread of illnesses.
Teledentistry
Certain dental issues can be discussed over the phone. This reduces the number of patients coming into the office, therefore limiting potential exposure to the virus.
Fewer chairs
There will be fewer chairs in the waiting area in order to make it easier to practice social distancing.
No office tours
Your dental office loves showing new patients around. However, at this time office tours will not be available.
Even while we're living in the midst of a pandemic, your oral health is still a priority. Your dentist is doing everything they can so they can still provide dental care in a safe environment for you and your family.
About the Author
Dr. Walter McGinn has worked in his own practice since 1994 in Putnam, CT. He is a member of the American Dental Association, the Connecticut Dental Society, and the Northeastern Connecticut Dental Society, where he is a past president. He and his team prioritize a safe dental environment for their patients. For more information on social distancing in dentistry, visit his website or call (862) 928-3723.