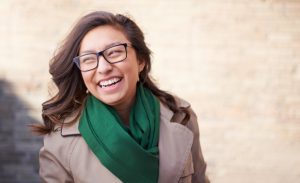 There's a patch of carpet in your house that looks empty, so you head on down to the Antiques Marketplace to try and fill it in style. To say you're overwhelmed with the selection is an understatement. Generations of vases, tables, and jewelry boxes only scratch the surface of what's available. You see a particular end table that would be perfect, but you want to talk the price down. You hesitate, not because you mind haggling, but because you don't like showing your missing teeth. They always make you take a moment before speaking to someone new. Just like with your home, you have options when it comes to filling in the gaps in your smile. Your dentist in Putman from Quiet Corner Dental wants you to know what dental bridges and dental implants can do for you.
Dental Bridges
Dental bridges have been used for years to help restore a row of damaged and missing teeth. They accomplish this by having two supporting teeth attached to a fake (or pontic) tooth that sits on the gums where your tooth has gone missing. The two supporting teeth may need to be modified to accommodate crowns so they can support the pontic tooth. Dental bridges can help restore your bite as well as your smile. They can be fixed or removable depending on your preferences, and are specially shaded to match the rest of your teeth. Dental bridges are ideal for patients who are looking for a relatively quick way to replace their missing teeth. You can have one placed in as little as two visits to our office. On the first visit, we will examine your teeth, prepare the supporting teeth, and take an impression. This impression will be sent to a lab to make your bridge, which you will have placed on the second visit.
Dental Implants
Dental implants in Putnam are the only procedure that can completely restore a missing tooth. They are the only way to replace both the root as well as the crown. This new titanium root provides the type of secure and sturdy base the rest of your other teeth already have. It can also help prevent and even reverse the gum recession that is common after tooth loss. It is able to do this because the titanium is bio-compatible, meaning your body will naturally bond with it and treat it like a normal root. Dental implants are one of the most reliable ways to replace your missing teeth, having a 98% success rate. They are also quite versatile, as they can be used to replace a single tooth, support a bridge, or even anchor a set of dentures.
The procedure to get dental implants starts with a minor surgery to actually place the roots into your jaw. We will then give you 3-6 months to heal, as well as allow the root to bond with your jaw bone. After that, we will place a new porcelain crown on the root in order to fully restore it.
Which One Is Right For You?
The only way to figure out whether you should get a dental bridge or dental implant is to come visit Drs. Carolyn and Walter McGinn. They will give you an examination and let you know which is your best solution. Dental bridges are quicker and less expensive than dental implants, but require some enamel to be removed from your teeth. Dental implants may take much longer, but they have a much more consistent result. They are also better suited for patients who may have tissue loss due to missing teeth, or are looking to permanently replace quite a few teeth. No matter what, we can take care of your missing teeth at Quiet Corner Dental, so be sure to come see us so we can restore your smile today.