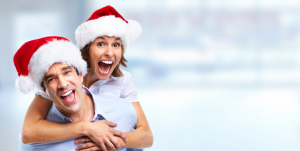 The holidays are an exciting time of year as you gather with friends and loved ones over warm meals. No gettogether is complete without a few yummy sweat treats, like cookies and cakes. While it may seem like a few days of overindulgence will not cause any harm, this could not be further from the truth. Not only are sugary treats bad for your waistline, but your dental health as well. If you are not careful, it could lead to some unexpected news at your next appointment with your dentist in Putnam. To protect your smile during the holidays, there are some simple tips to keep in mind.

Protect a Healthy Smile
Although you may only be eating sugary treats for a couple of weeks, it can still cause damage to your teeth. When you consume sugar, it combines with your saliva, turning it in to acid. In as little as 20 minutes, it can begin to erode your enamel, increasing your risk for the development of a cavity. Not to mention, the acids and bacteria can also irritate and infect your gum tissues, leading to gingivitis.
To protect the health of your teeth and gums, there are some simple tips to keep in mind:
Limit Your Sugar Consumption: You cannot always resist your sweet tooth. If you give in to a sugary treat, try to balance it out with a healthier alternative, like fresh fruits and vegetables or low-fat dairy products.
Don't Eat Sticky Treats: Sticky candies and treats can cling to your teeth, making them difficult to remove. Instead of caramels or other sticky foods, try to choose those that will not stick around, like chocolates.
Brush Regularly: Although it is recommended that you brush your teeth at least twice a day, you may want to consider doing it more often during the holidays. If you have eaten something sweet, it is best to brush your teeth immediately afterwards. This will help to remove the sugars and plaque that can cause damage to your smile.
Maintain Your Oral Hygiene: Although the holidays can be a busy time of year, do not skip your oral hygiene routine. Make sure you are brushing your teeth for at least 2 minutes twice a day and floss every night before going to bed.
Rinse Your Mouth: When you are at holiday gatherings, it is not always possible to brush your teeth after a meal or snacking. If you cannot get to your toothbrush, it is best to rinse your mouth with water to help reduce bacteria and food particles.
Dentist Near Me for a Healthy Smile
This holiday season, be sure to keep your oral health a priority. Before you get too busy, schedule an appointment with your Putman dentist for a cleaning and checkup.
About Dr. Carolyn McGinn and Dr. Walter McGinn
Dr. Carolyn McGinn and Dr. Walter McGinn are committed to providing family-friendly dental care to the community. To reach your oral health goals, contact our office today to schedule an appointment before the holidays.