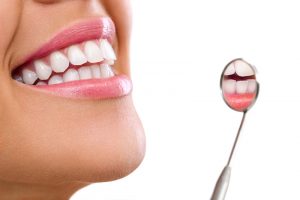 April is known for the first signs of spring weather and for those first showers that bring May flowers — but your dentist in Putnam knows there is one other thing that happens this time of year. It's also Oral Cancer Awareness Month! This is a perfect moment to talk about what this disease is, what happens in a routine oral cancer screening, and how getting one could save your life. Keep reading for the answers to all that and more!
What Is Oral Cancer?
Oral cancer is cancer of the gums, tongue, lips, cheeks, hard or soft palate, or throat. Its occurrence is on the rise — and it no longer affects primarily tobacco users. People who have had HPV (human papillomavirus) are at a higher risk of developing oral cancer. For this reason, diagnoses are occurring in younger and healthier patients than ever before. Rates for young men are spiking at an especially high rate.
What Happens In an Oral Cancer Screening?
Getting routine screenings for oral cancer is one excellent way to improve outcomes following a diagnosis. These examinations can be performed within minutes by your Putnam dentist at the end of a routine checkup and cleaning. During an oral cancer screening, you will be asked a series of questions about your oral health. Then, by looking at your face and inside your mouth and also feeling the soft tissues, the oral cavity and surrounding areas are checked for any irregularities that could indicate oral cancer.
Some of the things that your dentist is looking for during an oral cancer screening include:
Lesions that have not healed after two weeks

Lumps or bumps

Asymmetries

Discoloration (pink or red patches)

Rough spots

Other irregularities
If something strange is found during the oral cancer screening, your dentist will provide tips for next steps to ensure you get the follow-up care you need. A lesion will need to be biopsied right away. Something less serious could just require monitoring at first — so we may ask you to come in again in a couple of weeks to check in on the area. Whatever your next steps are, you can feel confident when you partner with expert in oral cancer!  
Who Should Get Oral Cancer Screenings?
Older patients (55+) should have an oral cancer screening performed at least once annually. And, given the fact that the disease is occurring more frequently in younger patients, it's also a good idea for younger patients to have a screening periodically. Early detection of oral cancer can greatly increase the odds of successful treatment — and April is a great time to schedule a screening, during Oral Cancer Awareness Month!
About the Dentists
Dr. Carolyn E. McGinn and Dr. Walter McGinn partner to provide excellence in dentistry for patients in and around Putnam. If you are busy looking for a "dentist near me," it's time to call off the search — contact the office at 860-928-3723 today!