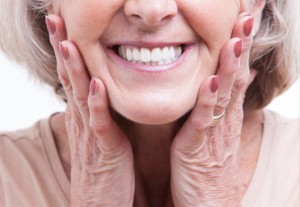 As the American population ages, more and more people are likely to need tooth replacement. However, age is not necessarily a factor when it comes to replacing missing teeth. Research indicates that around 69 percent of adults between the ages of 35 and 44 have lost at least one tooth because of an injury, root canal failure, periodontitis or severe tooth decay. By the age of 74, more than 25 percent of adults can expect to lose all of their teeth. One of the most reliable ways to replace missing teeth is with a denture. Whether you need to replace one or more missing teeth, Dr. Carolyn McGinn and Dr. Walter McGinn in Putnam, CT, can restore your smile with either full dentures or partials.
You may have one or more missing teeth for a number of different reasons, including:
Poor oral hygiene that leads to tooth decay or gum disease
Traumatic injury
A diet full of sugar, carbohydrates and acidic foods and beverages
Certain medical conditions—heart and respiratory disease, diabetes, HIV, malnutrition and immunosuppression
Chemotherapy, radiation and other medical treatments
Regardless of the reason, even one missing tooth can cause difficulty with speaking and chewing, loss of gum and bone tissue, sagging facial features and self-consciousness.
Dentures and Partials to the Rescue
Dentures are a removable prostheses that replace teeth. False teeth are attached to a gum colored base that is held in place with natural suction and denture adhesives. Full dentures are intended for those who are missing teeth along an entire arch. Partial dentures fill in the spaces left by one to three missing teeth. A partial is usually built on a metal frame and is anchored by clasps that attach to your remaining teeth. Drs. McGinn can give a denture or partial that will not only restore your teeth, but rebuild your smile and your confidence, too.
Call Our Office Today
If you have missing teeth, then consider dentures and partials from Drs. McGinn. We conveniently serve patients in Putnam, CT, as well as Woodstock, Thompson, Pomfret, Brooklyn, Killingly, Eastford, Plainfield, Webster, Dudley, Douglas, Burrillville, Gloucester, and Foster.