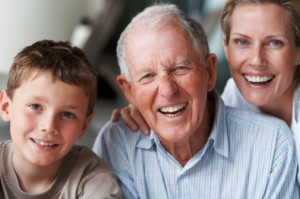 Because your family is made up of people young and old, Dr. Carolyn McGinn and Dr. Walter McGinn in Putnam, CT, have a family dentistry practice that serves patients of all ages. If you have a toddler in the family, then we have just the right touch and approach to help them feel comfortable at the dentist, so they can begin to build a solid foundation of oral health care for a lifetime. If you look after elderly parents, we are experienced in caring for older patients whose teeth may need restorative procedures, such as crowns or dentures. Drs. McGinn have the family dentistry practice that can accommodate the needs of all the members of your family.
Family Dentistry in Putnam, CT
Of course, the cornerstone of family dentistry is the dental checkup. Drs. McGinn would like to see each member of your family every six months for checkups. So, whether you're bringing your child for his very first checkup or your Dad for his 101st checkup, we set out to accomplish the same goals with our checkups. First, we'll clean your teeth and remove plaque, which is that sticky substance that can harden and trap decay causing bacteria.
And speaking of bacteria, we always check your teeth for signs of decay and, when necessary, take digital x-rays to find hidden spots of decay below the gum line. We'll also evaluate the health of your gums, screen for oral cancer—a particular concern for older patients—and check for any indication of TMJ, temporomandibular joint disorder, which is a painful condition of the jaw joints that can lead to other problems such as bite misalignment.
Schedule an Appointment Today
For family dentistry designed to serve all the members of your family, call the office of Dr. Carolyn McGinn and Dr. Walter McGinn. We conveniently serve patients in Putnam, CT, as well as Woodstock, Thompson, Pomfret, Brooklyn, Killingly, Eastford, Plainfield, Webster, Dudley, Douglas, Burrillville, Gloucester, and Foster.