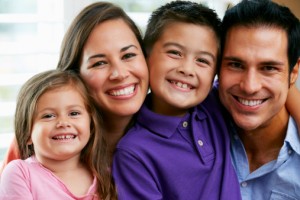 As the husband and wife dental team serving Putnam, CT, and the surrounding areas, Dr. Carolyn McGinn and Dr. Walter McGinn certainly know something about family. Moreover, they also know a lot about family dentistry. As your family dentist, the McGinns will provide comprehensive dental care for you and for the people you care about the most.
Along with good oral hygiene at home, family dentistry, also called general dentistry, is the foundation of oral health. As family dentists, Drs. McGinn place a premium on prevention—preventing tooth decay, gum disease and other conditions that are compromising to your oral health as well as your overall health.
An Ounce of Prevention with Family Dentistry
Thus, with prevention in mind and in keeping with the recommendation of the American Dental Association, our dentists would like to see you and your family members at least twice every year for checkups. At these checkups, we will clean your teeth, remove any plaque build-up, monitor for decay and when needed, take x-rays to see decay in locations where dental caries can go unnoticed. Of course, if we find a cavity, then we will treat with a dental filling, thereby preventing a more involved procedure such as root canal therapy, a crown or dental implant, or even extraction.
In addition, Drs. McGinn may occasionally recommend fluoride treatments and dental sealants. These procedures are particularly important for children whose dental habits may be, well, less than perfect. Fluoride has been proven to strengthen teeth's enamel, your smile's first line of defense against decay. Dental sealants literally provide an added layer of protection. These modern wonders are a thin plastic coating that is applied to teeth—most often those deeply grooved molars—to create a barrier between acid-causing decay and your teeth.
Call Our Office Today
To schedule an appointment with the family dentistry team of Dr. Carolyn McGinn and Dr. Walter McGinn in Putnam, CT, call our office today. We also serve families from Woodstock, Thompson, Pomfret, Brooklyn, Killingly, Eastford, Plainfield, Webster, Dudley, Douglas, Burrillville, Gloucester, and Foster.