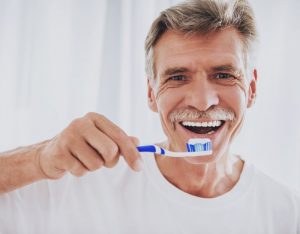 With the recent outbreak of COVID-19, most dental offices have postponed all elective treatments as well as regular dental checkups and cleanings. Most of them are only accepting emergency patients for the time being. If you're usually diligent about attending your biannual cleanings, you might be worried that your oral health will start to suffer. However, that doesn't necessarily have to be the case. Here are some tips to keep your mouth healthy until your dentist reopens their practice.
Brush and Floss Every Day
Since you can't get your teeth professionally cleaned for the foreseeable future, having an at-home oral hygiene routine is more important than ever. Brush your teeth every morning and every night with a fluoridated toothpaste. Use a soft-bristled brush to avoid irritating your gums. Also, floss at least once a day. In a perfect world, we'd all floss after every meal, but that's not exactly realistic. Once a day should be enough to prevent plaque from building up along your gumline and causing gum disease.
Drink Tap Water
Most tap water is fortified with fluoride these days. Fluoride is a naturally occurring mineral that has been proven to strengthen your tooth enamel. This makes you much less susceptible to cavities. Bottled water typically doesn't have fluoride, so unless you're drinking tap water, you're missing out on some dental health benefits.
Eat a Mouth-Healthy Diet
This quarantine is the perfect opportunity to revamp your diet and eat a little healthier. To make sure you get all the vitamins and minerals your teeth and gums need, eat a variety of fruits and vegetables. Additionally, it helps to eat plenty of dairy products, which are rich in calcium. Calcium makes your teeth stronger in the constant battle against tooth decay.
Get Plenty of Sleep
Although the pandemic can induce anxiety, it's still important that you achieve at least eight hours of sleep every night. Not getting enough sleep can impair your immune system, making you more vulnerable to gum disease and other oral infections.
None of us have ever lived through a massive pandemic like this before. However, just because these times are unprecedented is no excuse to let your dental care fall by the wayside. Keep these tips in mind to ensure your teeth and gums stay healthy until you can attend teeth cleanings again.
About the Author
Dr. Walter McGinn is a 1987 graduate of Harvard School of Dental Medicine. He opened his private practice in Putnam, CT in 1994. He maintains active memberships in the American Dental Association, the Connecticut State Dental Association, and the Northeastern Connecticut Dental Society. In addition, he has been elected to the Pierre Fauchard Academy, an international organization dedicated to uniting the best dentists around the globe. For more advice on how to maintain your dental health during quarantine, visit Dr. McGinn's website or call (860) 928-3723.