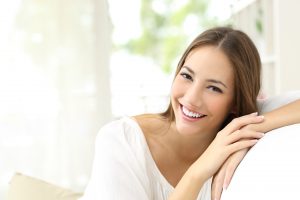 How many times have you laughed today? On average, most studies estimate that American adults laugh 15-17 times a day. Unfortunately, many people choose to giggle behind their hands out of embarrassment. Wouldn't it be nice to laugh, talk, and smile without worrying what others think about your teeth? With the help of your Putnam cosmetic dentist, you can enjoy a set of pearly whites you can't wait to show off as well as all the surprising benefits that come with it. Here are the top five reasons to invest in your smile!
A Beautiful Smile is a Healthy Smile
Taking the time and effort to help your smile become its best will encourage you to take care of it more often. In fact, several studies found that people typically show a marked improvement in their at-home oral hygiene after cosmetic dental treatments.
You'll Look and Feel Happier
When you have a set of dazzling teeth that you're proud to show off, you'll start to smile more. This triggers the release of natural feel-good chemicals like dopamine, serotonin, and endorphins, which create feelings of happiness, confidence, and relaxation.
Those Around You Will Notice
Smiling more changes how people see you in a variety of ways. Hundreds of studies indicate that a beautiful smile can help make you look younger, healthier, more attractive, and more approachable. You're also more likely to make a great first impression when meeting someone new.
Improve Your Professional Life
According to Kelton Research, two out of three employers reported that they're more likely to hire someone if they have a great smile. Not only will an improved smile help you ace the interview, but it can facilitate building your professional network, increasing your productivity, and earning that promotion.
Your Overall Health Will Thank You
Did you know that your oral health influences your general wellbeing? As you keep your new smile clean and healthy, you'll lower your chance of larger health conditions like pneumonia, rheumatoid arthritis, and even heart disease
What Are the Best Smile Investments?
So what's holding you back from enjoying the benefits of a beautiful smile? No matter what you don't like about your teeth, your Putnam dentist can help you pick out the treatment that's right for you. Popular services like teeth whitening, cosmetic dental bonding, and porcelain veneers offer an easy investment in your smile that can last for years to come!
About the Practice
Drs. Carolyn and Walter McGinn of Putnam, CT have helped countless patients achieve the smiles they've always wanted with a range of cosmetic services. Since one smile doesn't fit all, they always take the time to get to know you, your goals, and your concerns to create a personalized treatment plan just for you. They are dedicated to helping your smile look and feel its best for decades to come, so if you have more questions about their cosmetic services, don't hesitate to contact them at their website or (860) 928-3723.