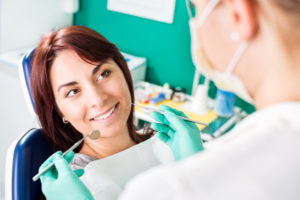 From daily brushing and flossing to regular checkups at the dentist, prevention is a vital step for healthy, long lasting teeth and gums. Your Putnam dentist stresses the need for preventive dentistry for patients of all ages, including education and strong oral hygiene practices at home and in our comfortable office. Proper dental care can help you avoid cavities, gum disease, and tooth sensitivity for a lifetime to come.
Prevention At Home
Healthy smiles begin at home, with solid oral hygiene habits including brushing at least twice a day and flossing daily. These practices are crucial for removing the plaque and bacteria that causes tartar, tooth decay, and gum disease. Maintaining a balanced, low sugar diet is another important aspect of continued oral health.
Some tips for keeping your teeth clean at home include…
Brushing in gentle, circular motions rather than hard side to side strokes, which can damage the gums

Using a fluoride toothpaste

Adding an antimicrobial mouthrinse for additional cleaning

Rinsing your mouth with water after drinking sugary beverages or eating candy

Avoiding tobacco products
Routine Checkups and Cleanings
Just as important as brushing and flossing at home is visiting your dentist every six months for a routine exam. When we see your smile regularly, we are able to catch potential issues almost as soon as they develop. Early detection helps us provide conservative solutions for cavities, gum disease, and other issues.
We usually begin this routine visit with the cleaning portion, during which your hygienist removes plaque and tartar from the surface of your teeth and just below the gum line, if you have periodontal pockets that can indicate gum disease. Charting the depth of these spaces helps us determine if you need periodontal therapy.
After your teeth and gums are sparkling clean, we will take X-rays and your dentist will take a thorough look at your teeth and the surrounding oral structures. If any issues are detected during the exam, we will put together a plan to ensure you receive the restorative care you need promptly.
Preventive Care for Children
Children are at a higher risk of developing cavities before their tooth enamel has completely hardened, from ages 6 to 14 or so. Maintaining strong hygiene at home and visiting your dentist regularly is especially important around this time.
To keep cavities at bay, your dentist can provide additional preventive treatments for children, including dental sealants and fluoride treatments. Dental sealants are thin coverings that shield the chewing surface of the premolars and molars from left behind food particles and bacteria. A topical fluoride treatment strengthens the tooth enamel to prevent the formation of weak spots that eventually turn into cavities.
Let's Stop Problems Before They Start
With routine preventive care, we can help you and your loved ones stay away from significant oral health hazards. When was your last trip to the family dentist in Putnam? If it's been longer than six months, it's time to come see us. Contact us to schedule an appointment today!