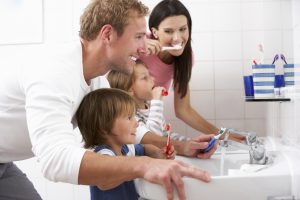 When you're faced with the decision to choose your own dental tools, do you feel confident in your ability to make a great decision? It's important to feel good about the dental tools you use at home—especially your toothbrush. You should feel comfortable and confident that your toothbrush will really get het job done!
Which is what brings us to a posing question that many patients have—which is better: electric or manual toothbrushes? Your Putnam dentist is here to help you make a solid decision to help you improve your oral health.
Which is Better? Manual or Electric Toothbrushes?
If you find yourself standing in the middle of the dental aisle staring at a large variety of toothbrushes – ones with lights that go off, music that sounds off, or a variety of different colors to choose from—but still can't decide, this post is perfect for you.
Contrary to popular belief, both manual and electric toothbrushes do a great job at cleaning your teeth—but there are a few benefits that come with using a powered toothbrush that you might want to consider.
The Benefits of an Electric Toothbrush
Although manual toothbrushes have been used as a tried and true way to clean teeth, electric toothbrushes offer a few more benefits:
Some toothbrushes have timers that will sound off when it's time to start brushing another section of your teeth, making sure that you're thoroughly cleaning your smile for at least 2 minutes.
Some electric toothbrushes have pressure indicators to avoid bad abrasive brushing habits that can wear away tooth enamel.
Most electrical toothbrushes have circular heads that rotate in circular motions, cleaning your teeth even when you keep the electric brush in one place.
Finally, there are many toothbrushes that just allow you to replace its head, saving you money in the long run rather than replacing the whole brush.
The Bottom Line
As mentioned above, both manual and electric toothbrushes are great for keeping your teeth clean. The choice is up to you, although electric toothbrushes do offer more benefits in most cases. However, the toothbrush is only as effective as the owner's dental hygiene habits. If you don't use it, it won't work to keep your teeth clean!
If you need help choosing your perfect toothbrush, don't hesitate to get advice from your local dentist in Putnam!
---
About Our Office
Our dentists, Dr. Carolyn & Walter McGinn, work hard to provide excellent dental care for every one of our patients. It's important that our patient's smiles receive the care they need and learn a thing or two during their routine appointments about optimal hygiene care at home. Contact us today to schedule your appointment!