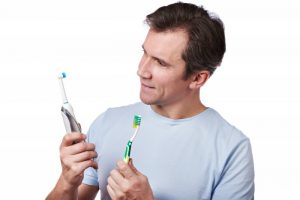 Whether you've decided to buy your oral care products in bulk (smart move by the way) or you've decided to do some spring cleaning and came across a drawer filled with oral care products from your bi-annual dental visits, it's easy to lose track of how old our dental supplies can get. However, just like many other grocery items and over-the-counter products, much of them are good past the manufacturer's use by date.
So, to save you some money and protect you from ineffective toothpaste, your Putnam dentist is stating once and for all what you can use and what you should pitch.
Toothbrushes
The great thing about toothbrushes is that they can last forever, as long as they haven't been used yet. This is especially true if they're still in their packaging, as they typically are when you discover them. If you're toothbrush is still good, having a backup brush or a brush for travel purposes is a great way to makes use of it. Just make sure to replace your toothbrush or toothbrush head every 3 to 4 months if you use them daily, which according to your dentist in Putnam, you should be.
Toothpaste
Toothpaste past its prime is not dangerous to use, so if you're out of toothpaste and it's the middle of the night, it won't hurt to use it until you get more the next day. However, keep in mind that once toothpaste is two years past its use by date, the fluoride and flavor inside it will start to fade. This can reduce its effectiveness, so don't rely entirely on old toothpaste if you want the best cleaning possible.
Mouthwash
Since the active ingredient in most mouthwash is alcohol, it can last for a very long time. But since mouthwash is also mostly water, the antiseptic inside it will start to dissolve, typically 2 to 3 years after the use by date. The more water in your mouthwash, the higher chance bacteria can start to grow. Pay close attention to this date to avoid harming yourself.
Floss
Your Putnam dentist says if you look forward to flossing, you're in luck. Floss does not have any expiration date. The only time you'll need to be concerned is if your floss contains flavorings. Once it's been a year since you purchased it, the flavor will start to fade, just like how it does in toothpaste. If you don't mind this, floss away! It's better than skipping your flossing after all.
Want to know a great way to get free toothpaste, floss, and toothbrushes? Schedule an appointment with your dentist today and they'll provide a complimentary bag of supplies you can add to your collection!
About the Author
Dr. Walter McGinn runs the dental practice right alongside his wife, Dr. Carolyn McGinn. After earning his Doctor of Dental Medicine from the Harvard School of Dental Medicine, he completed his General Practice Residency at Long Island Jewish Hospital. To set up an appointment for a dental cleaning or learn more about his practice, contact him at (860) 928-3723 or visit his website.