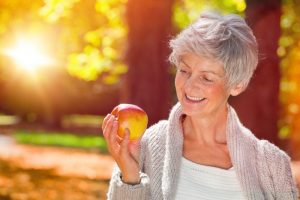 You just got your beautiful new dentures, and now you're ready to show off your smile at your niece's wedding and at all the backyard barbecues that you've been invited to. You're looking forward to good company, good weather, and, of course, good food. But be careful — don't dig into those delicious summertime treats without first reviewing the following tips for eating with dentures from your Putnam dentist.
Start With Soft Foods
It might take you a while to get the hang of eating with your dentures, and you may find that your gums are a bit sore for the first few days or weeks. As you're navigating your way through this adjustment period, it's a good idea to limit your diet to soft foods, like applesauce, pudding, oatmeal, and other treats that will go easy on your new teeth.
Be Cautious with Hot Foods
Whether you're enjoying a hot cup of tea by the campfire or you're getting ready to dig into those freshly grilled veggies, it's wise to be wary around hot foods. That's because your dentures can have an insulating effect on your mouth; you might not realize that something is too hot to eat until it has already burned the sensitive soft tissues inside your mouth. Take small bites of hot foods so you can gauge its temperature before you start really chowing down.
Cut Your Food into Small Pieces
The old adage, "don't bite off more than you can chew" is especially appropriate for denture wearers; trying to take on too much food at once can put extra strain on your jaw, gums, and new teeth. Therefore, it's wise to cut up your food into small pieces before you start to eat it. This is particularly important for things like raw fruits and veggies, which often require a significant chewing effort.
Drink Plenty of Liquids
Summer is full of starchy foods, like bread, potato chips, and so on. To keep these goodies from clinging to your new teeth, be sure to drink plenty of liquid (preferably plain water) while you're enjoying them. The water will rinse away food particles that might otherwise get stuck in your dentures.
Be Choosy About Your Meats
Grilled meats are delicious, but they can take some significant effort to chew. Until you get used to your dentures, you may want to avoid all those steaks and ribs. Slow-cooked meats and ground meats may be a lot easier for you to enjoy.
Your family dentist in Putnam wants you to enjoy life with your new teeth. Use the above tips to so both you and your dentures can have a great summer.
About Our Practice
Drs. Walter and Carolyn McGinn are a husband and wife dental team who love to serve the needs of families in Putnam. Whether you need advice on how to care for your dentures or you require other oral health services, they're ready to help! Feel free to contact our office at 860-928-3723.