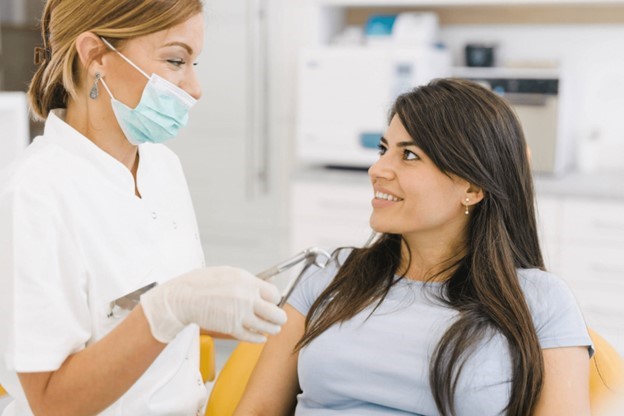 Regular dental checkups and cleanings every six months are essential for maintaining good oral health. At these appointments, your dentist will check for any oral health issues and clean your teeth to remove plaque and tartar buildup. Don't miss the opportunity to ask your dentist important questions about your oral health during these visits. Here are six questions to ask them during your next appointment to ensure that you have all the information you need to keep your smile healthy and strong.
#1: Do You Recommend Any Dental Treatments?
During your next visit to the dentist, it's important to ask about any additional treatments or procedures they may recommend. Even if there aren't any pressing oral health concerns that you need to have treated, your dentist may suggest additional care beyond a routine cleaning. For instance, if you have a cavity, your dentist will likely suggest a filling to repair it before it worsens.
#2: How Can I Improve the Appearance of My Smile?
Consulting with your dentist can help you find the best solution for any imperfections in your smile. They may recommend various cosmetic or restorative procedures to address issues like chips, gaps, alignment problems, discoloration, and more. By discussing your concerns with your dentist, you can make an informed decision about the best options to enhance your smile.
#3: What Are My Payment Options?
If you have dental insurance, this should cover two yearly dental checkups and cleanings. Insurance should also help lower the cost of restorative treatments. If you don't have dental insurance, ask your dentist what other payment options they offer.
#4: What Can I Do to Make My Smile Healthier?
Dental checkups offer an excellent opportunity to ask your dentist for advice on how to maintain your oral health. You can ask them how to improve your oral hygiene routine or how to adjust your diet to promote a healthier beam.
Additionally, ask about any bad oral health habits you may have, such as grinding your teeth, chewing on ice, or smoking. Your dentist can explain how these things may be impacting your dental health and how to fix these issues.
#5: What Should My Oral Hygiene Regimen Look Like?
You may need to improve your oral hygiene routine if you don't brush twice and floss once daily. While brushing for two minutes and flossing every night after your last meal works for most people, your dentist can let you know if you need to make any necessary improvements.
#6: Should I Change My Diet?
To lower the risk of cavities, avoid consuming too many acidic, starchy, sugary, or sticky foods. Consult your dentist about dietary adjustments that can promote a healthier smile, such as consuming foods with essential vitamins and minerals. You may also have to eliminate certain foods or beverages from your diet.
About the Practice
Quiet Corner Dental prides itself on providing individualized care to every patient. Their services include preventative checkups and cleanings to maintain excellent oral health. Additionally, they offer guidance on how to care for your smile outside of the office. Whether you need a routine checkup or a more complex treatment, the team at Quiet Corner Dental is committed to helping you achieve a healthy and beautiful beam. To schedule an appointment or to learn more about their services, call Quiet Corner Dental at (860) 928-3723 or visit their website.