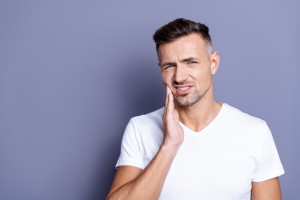 It's another weekday in Putnam, Connecticut, and you've just finished brushing your teeth when you notice a dark spot atop one of your teeth. You try to brush it off, but it remains. Maybe you even felt some pain in the area the other day. Is it a cavity? Should you go to your Putnam dentist today to find out? While your dentist can certainly tell you for sure, there are a few common signs of cavities and treatment options that you can expect to restore your smile.
Tooth Sensitivity
Overzealous brushing and the consumption of acidic foods can often trigger tooth sensitivity. However, if the pain is sharp and prolonged, this may signify that you have a cracked tooth or filling. The crack may reach your root in some cases, and the pain will be most notable whenever your teeth are cold. To restore your smile, you may require a filling or root canal to close any cracks.
Dark Spots on Tooth
While some tooth discoloration is a normal result of natural tooth wear and tear, a black spot on your tooth's surface could be a sign of tooth decay. If you notice this within a crevice of your tooth, it's recommended that you see your dentist straight away, as this is likely an early warning sign of a cavity. Treatment may be as simple as a quick filling if caught in time. In the meantime, make sure to brush and floss your teeth regularly, using a bacteria-killing mouth wash for extra measure.
If you noticed dark spots around a previous filling, this is also likely a sign of further cavity development. Some teeth have particularly deep crevices that are prone to cavity formation, so a second or third filling on the same tooth is not unheard of. However, it might also be a sign that your dental hygiene routine could benefit from some adjustments that prioritize that vulnerable point.
Surface Changes on Filled Teeth
Although it's not very common, sometimes previous fillings can dislodge. You may feel or see the composite break off after chewing a hard piece of candy or food. If you sense that you've lost a piece of a previous filling, it's essential to schedule an appointment with your local Putnam dentist to fix the filling and prevent any bacteria from entering the tooth's drilled cavity.
If you've experienced one or more of these scenarios, a cavity may be starting to develop. But never fear: there are many treatment options to get that healthy smile back on track.
About the Author
Drs. Carolyn and Walter McGinn and their team of fellow doctors have practiced dentistry for over 25 years. Their general dentistry services, including filling cavities, are completed with the utmost care and skillfulness. If you have questions about a toothache, discoloration, or other visible changes on a tooth's surface, don't hesitate to reach out to their team of oral health professionals via their website or at (860) 481-7094.