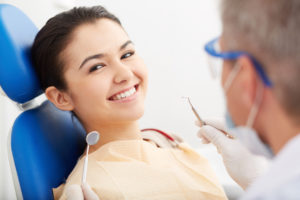 Did you know that most Americans think your smile is your most important physical feature? Having a memorable grin can even lead to increased success at work and better odds of meeting Mr. or Ms. Right. So, to get the most out of your pearly whites, follow these tips from your respected Putnam dentist, Dr. Carolyn and Walter McGinn. In this post, they share their expertise on maintaining a healthy radiant smile.
#1 – 2×2
Regular oral hygiene at home is a key component in keeping your smile healthy and bright. Brush your teeth gently twice a day for two minutes. Use a soft-bristled brush, fluoride toothpaste, and set a timer or play a song you enjoy on your phone to make sure you brush long enough. And, be careful not to use too much pressure – brushing too hard can cause gum recession.
#2 – Floss
Brushing is pivotal, but only cleans a little more than half of the surfaces of your teeth. Floss at least once a day – preferably before bedtime – or increase that to two times daily, if you can. Go slowly, use a satin style dental tape to make flossing more comfortable, and watch this tutorial flossing video to brush up on your technique.
#3 – See Your Dentist
Professional dental care is critical to smile success. See Drs. Carolyn and Walter McGinn at least twice a year for preventive care like exams and cleanings. With a checkup from our dentist, we can detect oral cancer when it's easily treatable and diagnose up to 120 medical conditions – just with routine dental care.
#4 – Eat Right
Sugar is damaging to teeth so avoid sweet foods and beverages, especially sodas and fruit juices. You can prevent tooth decay by enjoying veggies, dairy products, and nuts. Say cheese, since this savory treat helps protect enamel from cavities. And, stick to water as your beverage of choice.
#5 – Don't Smoke
If you use tobacco in any of its forms, you're putting your smile – and your entire body – at risk for serious health problems. Oral cancer, advanced periodontitis, tooth loss, and bad breath all stem from tobacco, so quit today to preserve your health and improve your overall well-being.
Now that you know the best ways to care for your smile, schedule your appointment with Drs. Carolyn and Walter McGinn today to get more professional suggestions when you see them in person!