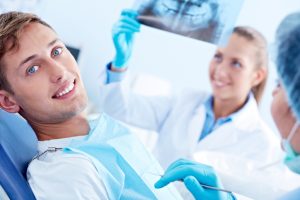 Putnam dentists, Dr. Carolyn McGinn and Dr. Walter McGinn, work hard to assist patients in preventing tooth decay and gum disease. They'd much rather do that than to use all the restorative dental skills and experience they have acquired over the years. So, they recommend the application of fluoride to keep tooth enamel strong. Could fluoride help your dental health?
Fluoride Has a Long Track Record
In various forms, fluoride has been used in preventive dentistry for decades. The American Dental Association (ADA) stresses that this mineral, either applied directly to tooth enamel or taken internally, reduces the occurrence of dental cavities in both adults and children.
Fluoride works in a couple of ways: it hardens enamel by putting minerals back into the tooth. Simple wear and tear degrade our enamel. Fluoride also seems to prevent decay by making enamel resistant to the acids we consume in our foods and beverages. Furthermore, the oral bacteria present in sticky plaque on and between teeth do more than cause bad breath.These germs secrete acids which break down tooth enamel, leading to decay, gum disease and its serious systemic effects. Fluoride, though, helps teeth stand up to acid erosion.
Getting the Fluoride You Need
With all different kinds of toothpastes available today, the most important ingredient still is fluoride. Also, many topical mouth rinses effectively apply fluoride. Fluoride treatments with Dr. McGinn are the most concentrated kind, hardening enamel and reducing dental sensitivity as they are swabbed on tooth surfaces and allowed to penetrate teeth.
Fluoride enters teeth systemically as well through the water we drink. Most communities in the United States add the mineral to municipal water supplies. Fluoride comes in drops, pills and lozenges, too.
What Else Besides Fluoride?
Twice daily brushing and once a day flossing are foundational to your oral health as these practices remove harmful  plaque. Plus, visiting your dentist in Putnam semi-annually has many smile benefits, including:
Visual inspection for cavities, gum disease and condition of existing restorations such as fillings and crowns
Early detection of dental issues before they become complicated, painful and expensive
Oral cancer screening (this deadly cancer is curable when caught early)
Periodontal probing to assess gum pocket depth, a measure of how healthy gums are
Checking for bite and alignment problems, TMJ dysfunction and bruxism (teeth grinding)
Personally discussing your oral health concerns and aesthetic goals with your dentist
Application of plastic sealants on children's molars (another effective cavity preventive)
Please Contact Us
Dr. Walter McGinn and Dr. Carolyn McGinn would like to see all their patients–kids through senior adults–more often for preventive care than for restorative treatments.  When was the last time you visited them? Why not contact the office today to arrange your routine appointment? Be sure to ask about how fluoride can help you achieve your strongest and healthiest smile.