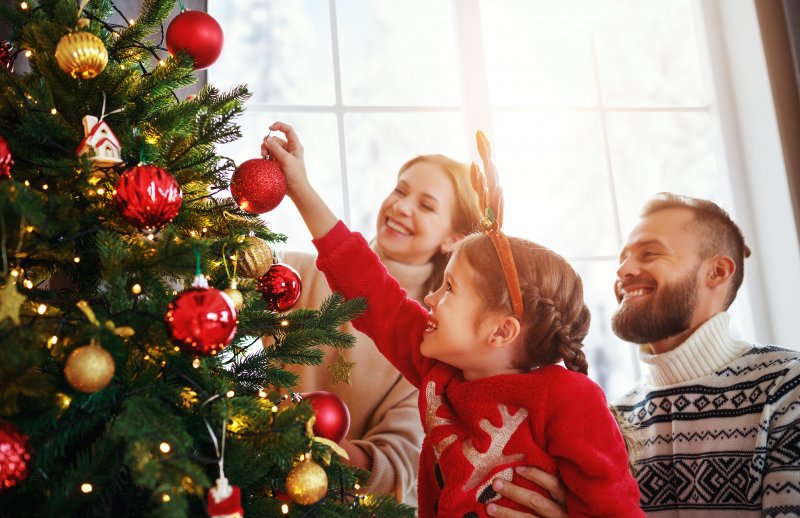 It's officially that magical time of the year everyone looks forward to – the holiday season! Most people are excited to reconnect with loved ones and (of course) indulge in all their favorite seasonal meals and snacks. Although your belly may be satisfied during this time, you can put your oral health at risk if you're not careful. That said, here are a few ways you can take better care of your smile while still enjoying your favorite holiday foods and drinks.
Be Careful with Candy Canes
Everyone knows that sugar can have detrimental effects on your teeth. Unfortunately, sweets like hard candy seem to be everywhere during the holiday season. Candy canes, in particular, are extremely prevalent around Christmastime. Although they're certainly tasty, biting down on one the wrong way can chip or crack a tooth. To protect your smile, only eat them sparingly, and be sure to brush thoroughly after eating candy of any kind.
Drink Plenty of Water
Water is truly one of the best drinks for your mouth and body. Make sure you drink plenty of it during the holidays! Even though having a glass of wine or a sugary soda may seem harmless, they can wreak havoc on your oral health. Not only do they dry out your mouth, but they can increase your risk of cavities and tooth decay. By staying hydrated, you can keep your salivary glands working at an ideal level to flush out harmful bacteria and maintain good oral health.
Follow a Healthy Diet
While preparing a plate at a holiday party, make sure you fill it with vegetables and meat! Foods like broccoli and carrots are excellent for your pearly whites because they're loaded with vitamin A, which helps strengthen your enamel. It may surprise you to learn that turkey is another great holiday food that's beneficial for your teeth. That's because it's a great source of phosphorus and protein, which both help your teeth remain strong and healthy.
Don't Use Your Teeth as Tools
If you need help tearing open a package or cracking some nuts, you might be tempted to use your teeth. However, doing so can cause serious tooth and gum damage. It can even crack, chip, or damage your pearly whites, resulting in a dental emergency. Instead, ask someone to help you with the task or wait until you have the right tools on hand.
Make a Dental Care Travel Kit
Are you traveling for the holidays? Prepare an on-the-go travel kit that contains all your dental care essentials. That way, you can easily stay on top of your routine even while you're away from home. Make sure it includes travel-sized essentials like a toothbrush, dental floss, fluoride toothpaste, and mouthwash.
Your oral health doesn't have to suffer this holiday season. By following the tips outlined above, you can enjoy all the festivities while maintaining a healthy smile!
About the Practice
Drs. Carolyn & Walter McGinn take pride in helping their patients achieve optimal oral health. From preventive services to cosmetic treatments, they've got everything you need at one convenient location. For more ways to maintain good oral health this holiday season, visit their website or call (860) 928-3723.