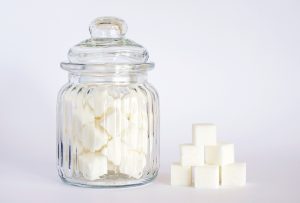 Everyone loves a sweet treat occasionally, but if you give in to your sugar cravings frequently, you're exposing your teeth to cavity-causing bacteria. Although cavities are preventable, the Centers for Disease Control and Prevention estimates at least 92% of adults have had one in a permanent tooth. If you have a difficult time resisting your sweet tooth, here are 6 tips to curve your sugar cravings to preserve your smile.
Sugar Leads to Tooth Decay
Sugar and high fructose corn syrup are used in abundance in a variety of products. Research has shown that the average American unknowingly consumes too much sugar. Not only does this contribute to high rates of diabetes and obesity, but also tooth decay.
Drinking a soda daily or having a few cookies with lunch will put you over the World Health Organization's daily recommended sugar intake for adults. While you might believe switching to fruit juice is healthier, some brands contain just as much sugar as sodas. Sugar creates an acidic plaque that can build up on your teeth. The bacteria and plaque will erode your enamel, creating a small hole called a cavity.
Tips to Ignore Your Sugar Cravings
Unfortunately, sugar can be addictive, so it isn't always easy to ignore the temptation. Here's how you can safeguard your smile:
1. Keep a Food Journal: Track the amount of sugar you consume for 1 week to learn more about your eating habits. This can help you pay more attention to the foods you're putting in your mouth to make healthier decisions.
2. Manage Withdrawal Symptoms: As you cut sugar from your diet, you can experience withdrawal symptoms. Instead of quitting cold turkey, reduce your sugar intake slowly over a week or two.
3. Practice Self-Motivation: Your willpower to resist sugar is the biggest influencer of your success. Stay focused on your goals, like maintaining a cavity-free smile.
4. Chew Sugar-Free Gum: Sugar-free gum is a great solution to enjoy something sweet while also cleansing your mouth between brushing and flossing.
5. Give in Occasionally: You can have sugar in moderation without damaging your teeth, but your dentist in Putnam recommends brushing and flossing after you've finished your snack.
6. Choose Sugar-Free Alternatives: If you can't give up your sweet treats, look for healthier alternatives. There are plenty of great sugar-free products. Don't worry, they don't taste as bad as you might have heard.
Enjoy a Cavity-Free Smile
Besides taking steps at home to combat tooth decay, don't forget to visit your dentist at least twice a year for a cleaning and checkup. They'll help you keep your teeth strong to ward off cavity-causing bacteria.
About Dr. Walter McGinn
Dr. McGinn earned his dental degree at the Harvard School of Dental Medicine. He is a member of various professional organizations, including the American Dental Association and the Northeastern Connecticut Dental Society because of his commitment to excellence. If it's time for your next cleaning and checkup, don't Google "dentist near me." Instead, contact our office today to schedule an appointment.