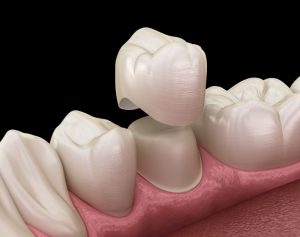 Dental crowns in Putnam have come a long way, but as you were probably made aware of when you first received your prosthetic, they're not meant to last forever. Yes, with proper care and maintenance, your restoration can last a decade or more, but over the years, daily wear and tear, as well as other changes in our mouth can result in your old crown no longer fitting as well as it once did. Read on to find out what signs might indicate that you need a new dental crown.
Why It's Necessary to Replace a Dental Crown
There are many reasons you might need to replace a dental crown. From breakage, general wear and tear, or decay, making sure you replace your restoration is important for maintaining optimal oral health.
A dental crown is meant to protect and strengthen your natural tooth. When decay or damage is present, this can be problematic not only for the tooth with the crown but for neighboring teeth as well. Not only could you be looking at the possibility of a root canal, but in the most serious situations, it might be necessary for your dentist to extract the tooth.
It's important to keep your regularly scheduled dentist appointments to allow your dental professional to examine your restoration and make sure it is still functioning properly. If not, this is a prime opportunity to move forward with replacing your crown and restoring your smile.
4 Signs That Indicate You Need a New Crown
While you might not automatically assume it is your crown that is the problem, your dentist in Putnam can quickly tell whether you need a new crown. If you still have a short while before your next scheduled dentist appointment, here are a few signs to look out that may result in having your crown replaced:
Pain: Dental crowns should never be painful, so if the tooth with the crown is causing discomfort, it might be because of a break or another type of damage. Without proper treatment, this can cause decay or infection. Depending on the severity of the damage, the crown will either be repaired or replaced.
Change in your bite: Your bite should be evenly distributed, so if at any point, it feels uneven, there might be a problem with your dental crown. If your teeth are no longer fitting together properly, an adjustment or replacement may be necessary.
Wear and tear: On average, a dental crown can last 10-15 years. As you age, the normal wear and tear you put on your teeth can begin to take its toll on your crown. After evaluating your crown, your dentist may suggest replacing it.
Decay: If your oral hygiene habits are slacking, it can result in plaque developing around the base of your crown. This can lead to problems with the bacteria moving into the inner portion of your tooth, resulting in decay. If left untreated, not only will the crown need to be replaced, but you will also more than likely need a root canal to eliminate the damaged portion of the tooth.
It's natural that a replacement is needed after many years of wear, so don't be alarmed if your dentist declares it is time for a new crown. Just think of it as another step in keeping your oral health in great shape for the years ahead.
About the Author
Dr. Walter McGinn attended Providence College before going on to receive his Doctor of Dental Medicine from the prestigious Harvard School of Dental Medicine in 1987. In 1994, he opened his own practice in Putnam, Connecticut, and committed to helping patients achieve healthy, beautiful smiles. Offering a variety of services to patients in Putnam and surrounding areas, he and his team are equipped to repair broken smiles different methods of restorative dentistry, including dental crowns! Whether it is damaged or worn down from years of wear and tear, let us help restore your smile by contacting us at (860) 928-3723.