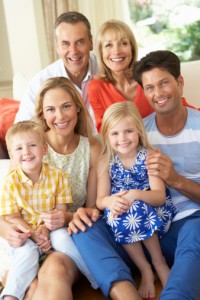 When you are looking for a Putnam family dentist, you are searching for someone who needs to be a lot of things to a lot of people. First of all, your family may include mom and dad, a few kids, grandma and grandpa, Aunt Shirley, and even that kindly old gentleman next door you look after. Among all of those people, a variety of dental services may be required from basic teeth cleaning to more advanced procedures, such as dental implants or dentures and partials. Drs. Carolyn and Walter McGinn are the skilled and experienced dentists you need to make sure your family members enjoy healthy and happy smiles for a lifetime.

No matter how old or how young, everyone in your family should see one of our dentists at least every six months for a dental checkup. These regularly schedule appointments give us the chance to not only clean and polish your teeth, but also to carefully examine your teeth and soft tissue for any signs of concern. We'll check for tooth decay and gum disease, and we'll conduct a thorough screening for oral cancer, a highly treatable and curable disease when caught early.
When you bring your children to see us, we work hard to make sure their experience in pleasant and not the least bit frightening. We want them to have happy memories of visiting the dentist, so they are always diligent about taking care of their teeth as they grow into adulthood. We'll spend time teaching your children how to properly brush and floss their teeth, too, and we may recommend dental sealants or a fluoride treatment to help prevent tooth decay.
Putnam Family Dentist Restores Dental Health
People of all ages need restorative dentistry. For example, tooth decay does not discriminate—whether you are two or 92, cavities can be a problem. Drs. McGinn can repair a tooth that has been damaged by decay with a tooth-colored filling that is made of composite resin materials. This filling not only matches the existing color of your tooth, but also provides a strong and durable restoration.
Likewise, whether because of damage or injury, tooth loss can also occur at any age. We offer number of tooth replacement options, including dental implants, crown and bridge therapy and dentures and partials.
Call Our Office Today
For family dentistry that serves each and every member of your family, call the office of Dr. Carolyn McGinn and Dr. Walter McGinn. We conveniently serve patients in Putnam, CT, as well as Woodstock, Thompson, Pomfret, Brooklyn, Killingly, Eastford, Plainfield, Webster, Dudley, Douglas, Burrillville, Gloucester, and Foster.