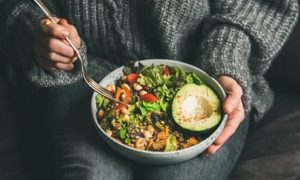 Adopting a plant-based diet has become increasingly popular over the past 4 years. Studies show that the number of people identifying as vegan has increased by 600 percent. Some find that it has improved their overall health, but how does it affect your smile? Keep reading to learn how a vegan diet affects your oral health and why visiting your dentist in Putnam is even more important to your dental care routine.  
What Does "Vegan" Mean?
Being a vegan means that you practice a lifestyle or diet that is completely free of animal products. In addition to not eating meat, they also avoid items such as eggs, dairy products and even honey. Some vegans also make a point to avoid items like fur and products that have been tested on animals. While some vegans have adopted this lifestyle with the aim of reducing their impact on the planet, others have been motivated by animal welfare, to lose weight or for health-related reasons like lowering cholesterol.
What Negative Effects Can Veganism Have?
According to the American Dietetic Association, most people can live a healthy life without eating meat. But there are some hurdles that can obstruct a vegan's dietary path. Vegans can miss out on certain nutrients that aren't found in plants, like B 12, creatine and vitamin D. This puts them at risk of gum disease, dental erosion and cavities. Starch-heavy substitutes like tofu and sugary treats like non-dairy ice cream can also lead to tooth decay. Research shows that meat, seafood and dairy can minimize acidity in the mouth and help remineralize teeth. If nutrients are not properly replaced, a meat-free diet can be particularly damaging for teeth.
What Positive Effects Can Veganism Have?
A diet full of leafy greens and antioxidant-rich fruits is great for both your teeth and your overall health. For example, kale is a great source of calcium, magnesium and potassium, which all help your teeth and bones to stay strong and healthy. Arginine, which helps prevent cavities and gum disease by breaking down plaque, can be found in pumpkin seeds, peanuts, soybeans, lentils and chickpeas. Studies show that cranberries and blueberries can be very effective in protecting teeth from cavity-causing bacteria. While one may have to work a bit harder to make sure they get all of the nutrients they need on a vegan diet, it is definitely possible.
When planned and practiced correctly, a vegan diet can encourage both a healthy body and a healthy mouth. Staying mindful of nutrient sources, practicing proper dental hygiene and visiting your family dentist in Putnam regularly will keep your smile healthy and beautiful for many years to come.
About the Practice
Drs. Carolyn McGinn and Walter McGinn have been transforming smiles in many towns throughout Northeastern Connecticut's Quiet Corner since 1994. With the goal of providing patients with comprehensive dental care, they work alongside their team of dentists and staff to offer services that range from preventive dental care to cosmetic treatments. If it's time to schedule your first dental checkup of the year, contact the office at (860) 928-6533 or visit the website to book your appointment today.